FAIRDOM (Web Site) will establish a support and service network for European Systems Biology. It will serve projects in standardizing, managing and disseminating data and models in a FAIR manner: Findable, Accessible, Interoperable and Reusable. To this end, the proven data management systems openBIS and SEEK will be federated into a new system openSEEK.
ETH Scientific IT Services is one of the five partners comprising the FAIRDOM consortium which is funded by national funding bodies from Switzerland, Germany and the UK.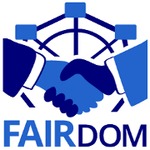 FAIRDOM Consortium.
What are FAIR principles about?
Findable
Make projects, people, catalogue of assets searchable. Link models, samples, data, SOPs.
Accessible
Manage and store your data, samples and models ("assets"), give and manage access to items, provide versioning.
Interoperable
Based on Standards, with support for Curation. Provide plug-ins and APIs to interlink with tools and other platforms.
Reusable
Enable reproducible research and consistent reporting. Simulate modesl with experimental data. Give Digial Object Identifiers (DOIs) to data and model items.